Division Details - Lethbridge Golden Hawks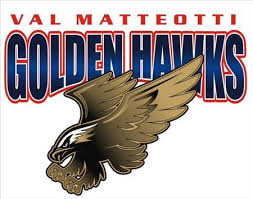 Team Profile
---
Lethbridge Val Matteotti Golden Hawks
The 2017-18 Lethbridge Val Matteotti Golden Hawks Bantam AAA program from Lethbridge, Alberta are very proud to be selected to the 2018 John Reid Memorial tournament for the 3rd time in three years. The team, coached by Doug Paisley, compete in the AMBHL , Alberta Major Bantam Hockey League.
The Golden Hawks Program has had a lot of success the past few years making it to the AMBHL league finals in the past two seasons as well as developing and preparing multiple players to play at the elite midget level including many WHL drafted players such as recent year's early round selections: Bowen Byram - Vancouver, Carson Dyck - Swift Current, Scout Truman - Medicine Hat and Ridley Greig - Brandon, just to name a few.
The Val Matteotti Golden Hawks history in Lethbridge takes a lot of pride in all of the alumni that have gone on to play at the NHL level.
Here are some of the players that we are proud to call home grown kids that played Bantam AAA for the Golden Hawks not that long ago.
Jamie Pushor - 1988, Stacy Roest - 1989, Kris Versteeg - 2001, Rob Klinkhammer - 2001, Spencer Machacek- 2002 and Patrick Holland - 2006.
We look forward to competing against the highest caliber teams at the Bantam AAA level that have also had the honor of being selected to play in this season's John Reid Memorial Tournament.
Good luck to all the participating teams.