Division Details - Phoenix Jr. Coyotes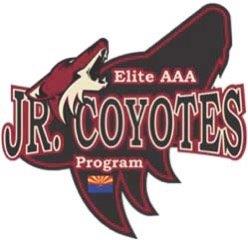 Team Profile
---
Phoenix Junior Coyotes

The Phoenix Jr. Coyotes were formed to provide the very best in hockey development, sportsmanship, integrity, coaching and exposure for the elite hockey player playing in the State of Arizona.

The Jr Coyotes, led by Director Marc Fritsche, play in The Tier One Elite league and have done so for the past seven seasons. The Tier One Elite league is one of the premier Tier One leagues in the United States and annually promotes players into all of the junior hockey leagues in North America.

With some of the NHL's finest players retiring in the Phoenix area, the Junior Coyotes have established themselves as an association on the rise. Former players that have coached within the association include: Shane Doan, Steve Sullivan, Ray Whitney, Derek Morris, Brian Savage, Ulf Samuelsson, Tyson Nash and Dave Ellett.

The 2003 Jr. Coyotes have had early success this season with an overall 19-4-0 record while playing high level events with great competition.

The Phoenix Jr. Coyotes are proud to be a part of the 40th John Reid Memorial Tournament and participate with top-caliber teams in this premier event.