Division Details - St. Albert Sabres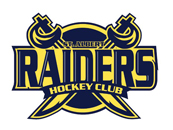 Team Profile
---
The St. Albert Sabres are honored to be participating and representing St. Albert in the 2018 John Reid Memorial Tournament. The 2017 team had a strong showing where the team went 3-0 in the Round Robin but fell short in the Playoff Round. This year's tournament again will showcase strong competition, which will include future professional hockey talent. Previous St. Albert Bantam AAA players who have played in the tournament and since have moved on to NHL careers include Colton Parayko and Jarome Iginla.
The 2017-18 edition of the St. Albert Sabres are a very "Blue Collared" team that play with a passionate, determined and 'team-first' mentality. The Sabres' team strengths revolve around compete, grit, speed, depth and skill. The team has been preparing both physically and mentally for the strong competition that the John Reid Memorial Tournament will present.
As of the beginning of December, the Sabres were 1st Place in the Nitro North Division and Northern Conference of the AMBHL. Within AMBHL league play, the team has numerous players in both Top Scoring and Goaltending categories. In November, the Sabres attended the Jets AAA Classic (Winnipeg), going 4-1 in the tournament and finishing a respectable 2nd place.
Thanks to all the volunteers who make this event possible and memorable! The Sabres wish all other participants best of luck and a pleasant time in the St. Albert area!